Facilities to support education and research activities are available in each Unit utilizing either HETF or State managed facilities.
---
⚠️ Changes due to Covid-19 ⚠️
Please note that the bunkhouse is closed due to concerns about Covid-19, and will be for the foreseeable future. If you have any questions please contact the HETF Resource Associate.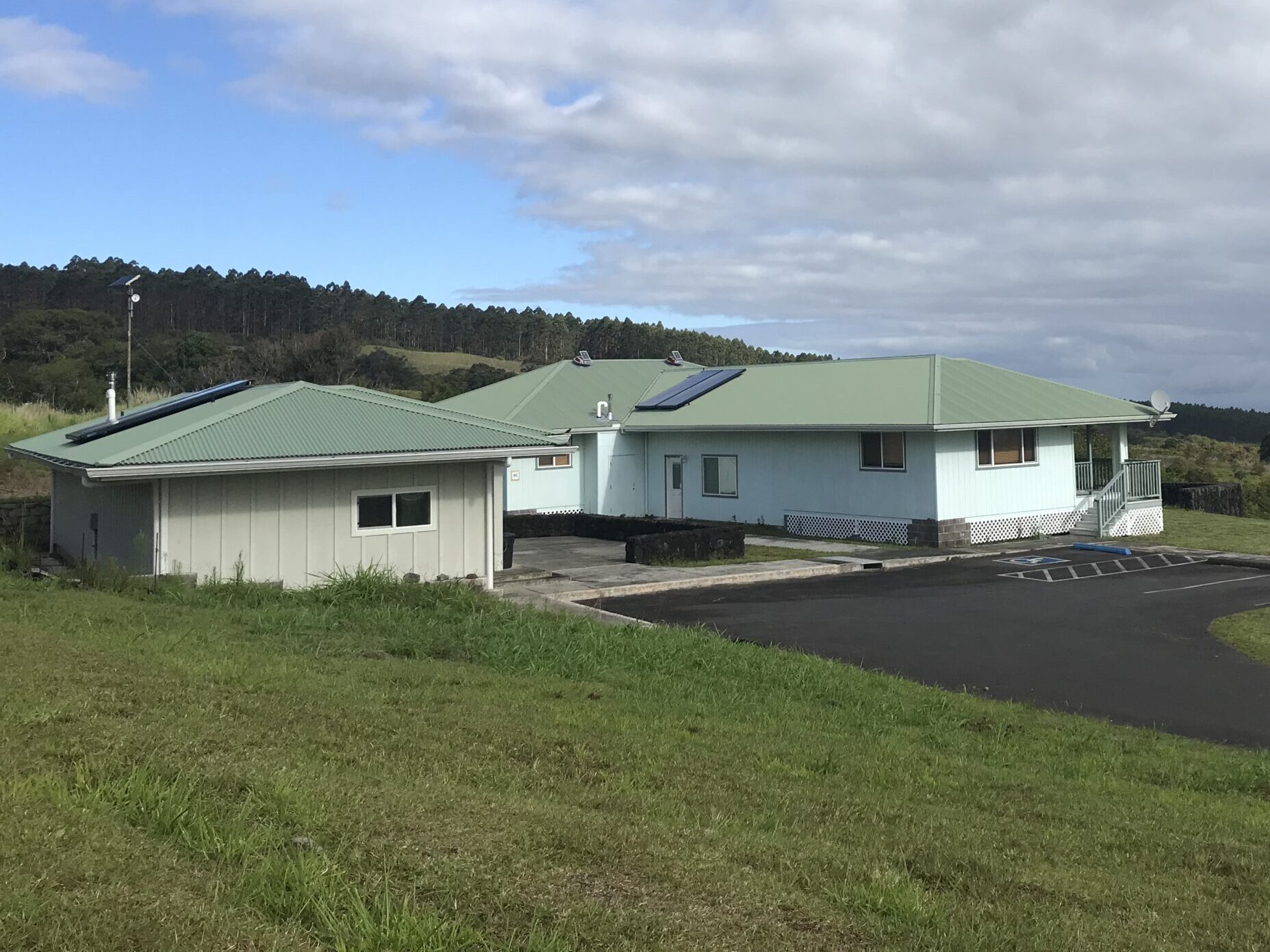 Laupāhoehoe Unit
HETF support facilities for the Laupāhoehoe Unit are present within the town of Laupāhoehoe, outside the forest boundary. The Kahikina Learning Center (KLC) is located on 55 acres of old sugar cane lands within the Laupāhoehoe community, approximately four miles from the HETF forest boundary.
Facilities include a bunkhouse, kitchen, restrooms, and classroom/meeting space. The facility site offers opportunities for research, education, and demonstration. The Center operates on a reservation system for both facility and land use activities.
General Housing Information:
Housing includes a full kitchen, common area, restrooms, washer/dryer, and bedrooms. Ten beds are available for reservation (subject to availability). To learn more about facility amenities and conditions read General Expectations.
Fees Ohia house = $84.06/person/night; 8 available beds

Fees are payable via check, money order, or USFS job codes.
Rates are effective March 4, 2020 – March 3, 2021.
USFS volunteer agreements or other partner agreements are required for overnight stays.
To apply for housing or land use activities:
Complete and submit a Facility & Land Use Request (see form for further instructions) well in advance of your requested date.
For facility use – submit forms minimally 2 weeks in advance of your request date. At this time housing reservations are first come first served and your requested dates may not be available; do not make plans to stay at the facility until you have received approval through the reservation system.
For land use – submit forms in well in advance; additional information may be requested for research and other complex or large scale education or demonstration activities.
---
Pu'uwa'awa'a Unit
HETF support facilities for Puʻu Waʻawaʻa are still in the planning stages. There are state managed facilities which may be available to support education and research activities. Contact the HETF Resource Associate for more information.